Pushing Limits:
Memoir of a Maverick From Soldier to Scholar
"This book is a celebration of an unusual odyssey towards a mathematical career . . . [recounting] his days as a West Point cadet, a trainee Ranger, army captain in the Vietnam War, a PhD candidate at UC Berkeley, a twenty-year itinerant professor at Georgia Tech, and an ambassador of mathematics. . . . Hill is a master storyteller."​
Now in Paperback and ​soon to be released as an Audiobook ​
In Pushing Limits: Memoir of a Maverick From Soldier to Scholar,
Ted Hill challenges the myth mathematicians lead dull and ascetic lives. It recounts his unique odyssey from Army officer to globetrotting research mathematician. This is the tale of an academic career as noteworthy for its offbeat adventures and questioning of authority as for its teaching and research accomplishments. Hill's book is packed with energy, humor, and suspense, both physical and intellectual. Anyone who is curious about how a maverick mathematician thinks, who wants to relive the zanier side of the 60's and 70's, or wants an armchair journey into the third world will be drawn to this book.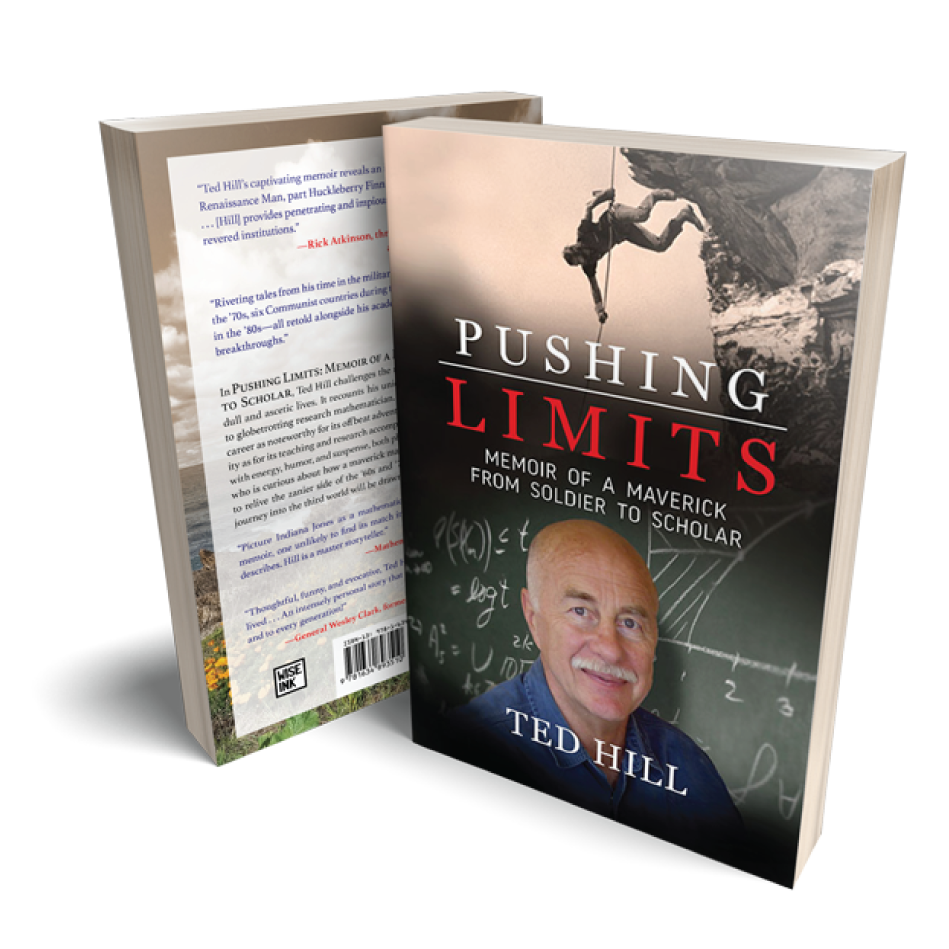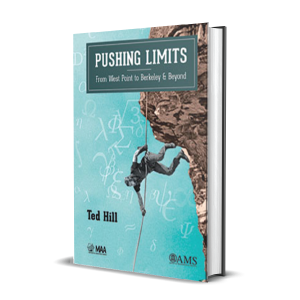 The Original Pushing Limits
First co-published as Pushing Limits: From West Point to Berkeley and Beyond by the American Mathematical Society and the Mathematical Association of America as a hardcover and ebook.​
"Ted Hill's captivating memoir reveals an intriguing character who is part Renaissance Man, part Huckleberry Finn. Fast-paced and often hilarious . . . [Hill] provides penetrating and impious insights into some of our more revered institutions." ​
—Rick Atkinson, three-time Pulitzer Prize winner, author of The Liberation Trilogy ​
Chapter 1: Day of the Handshakes ​
Chapter 2: The Star Years​
Chapter 3: Out of the Gates ​
Chapter 4: Preparing for War ​
Chapter 5: Vietnam
"I found out I had won an appointment to the United States Military Academy's class of 1966, with training to begin July 2, 1962. Neither my family nor I had any idea of what that really entailed, and now here I was, my grand plan for freedom and independence tied to surviving the most regimented life on Earth. It would be the first of many adventures in which I didn't do all my homework and stumbled headlong into a situation with unforeseen consequences. `What was I thinking? What the hell am I doing here?'"
BECOMING A MATHEMATICIAN

​
Chapter 6: Return to Reason​
Chapter 7: The Fulbright Interlude​
Chapter 8: Berzerkeley​
Chapter 9: The Apprenticeship ​
Chapter 10: Eurekas 
"…that year at Wash U was the third pivotal academic experience in my life. It reinforced a lifestyle that seemed perfect for me—a mixture of solitude and open hospitality, with minimal material possessions, and with the main focus on learning and passing on scientific insights to the next generation. I had also seen firsthand that year that a life in mathematics did not mean giving up physical adventures." 
Chapter 11:The Global Math Guild​
Chapter 12: The Math Ohana ​
Chapter 13: The Penn State Syndrome ​
Chapter 14: Permanent Sabbatical ​
"…A mathematician doesn't need tools or scraps or a lab, just paper and pencil, a napkin and a pen, a patch of sand and a stick. For someone like me who loves freedom, both intellectual and physical, mathematics is a glorious life…the beauty of nature is actually one of my keys to deciding what math to work on. When that trail outside looks more enticing than the scribbled math notes on my desk, it's time for me to take a hike. When the hiking and beachcombing get old, I return here to my dacha, crank up a roaring blaze in the firepit, settle into the rocking chair, and kick-start the math adventures again."
Now in Paperback and Audiobook
Order Pushing Limits Today
Praise For Pushing Limits
Ted Hill is an original. Mathematician. Adventurer. Activist. His life has seen both his mind and body tested to extremes…insightful, entertaining and – in a very good way – unlike any other book you will ever read by a mathematician.
—Alex Bellos, author of Here's Looking at Euclid and The Grapes of Math
I loved the book. Extraordinary job of making scenes come alive…with great energy and really good dialog.
—David Ignatius, award-winning columnist at The Washington Post, and author of The Quantum Spy and The Paladin
Straddling the military and the mathematical worlds, Ted Hill's life is full of contradictions, daring exploits and accomplishments, and outright fun and adventure. A fascinating read…
—John Allen Paulos, Professor of Mathematics at Temple University, author of Innumeracy and A Mathematician Reads the Newspaper
I have been editing books now for over forty years and [this] memoir is one of the most readable and enlightening works that I have worked on…I just kept turning those pages.
—Hillel Black, editor of 20 bestsellers including M*A*S*H and The Camera Never Blinks
Have questions for Ted? Leave him a message and he will respond shortly.